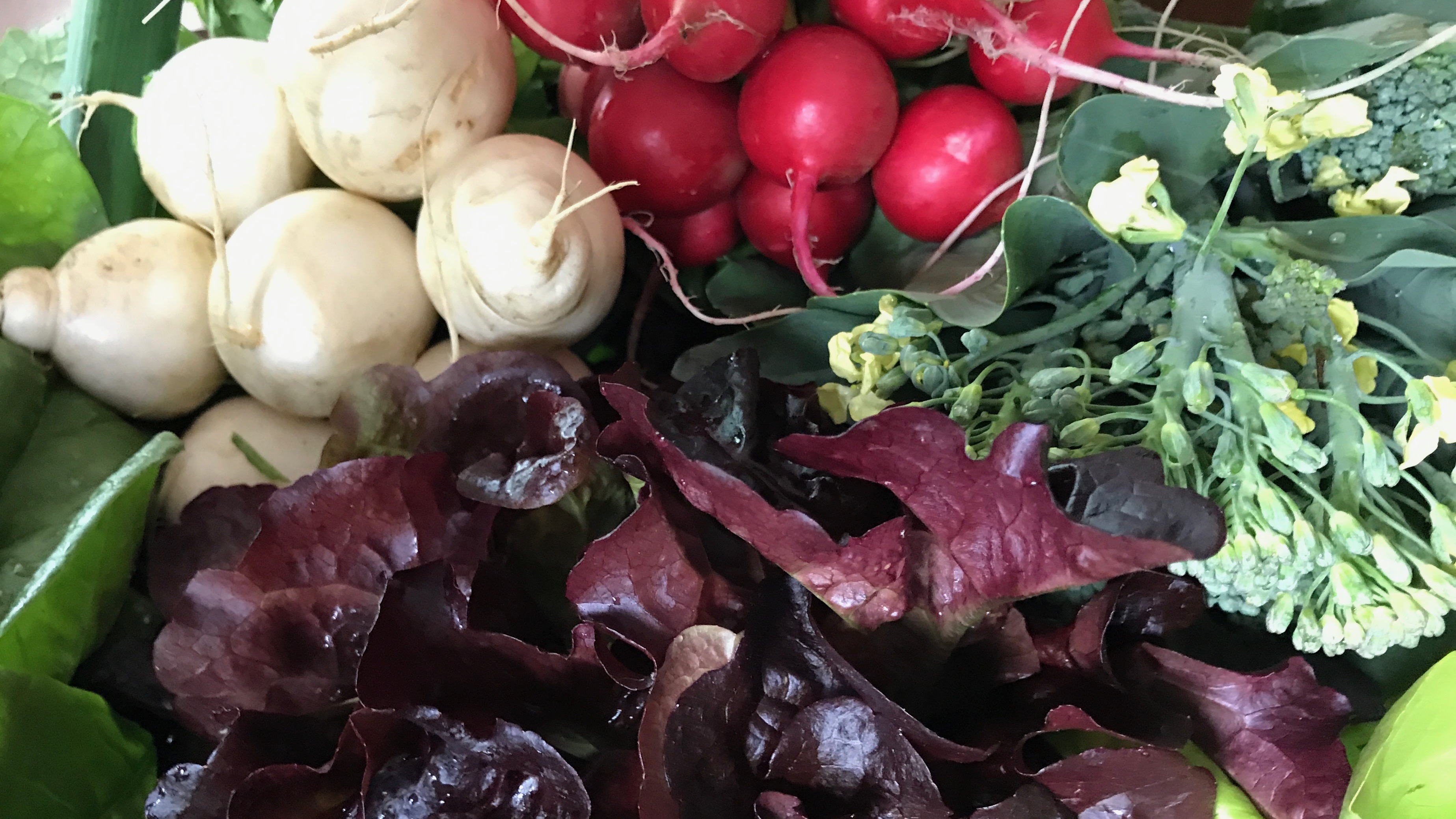 How To Become an Accident(al) Farm Hand
Call it the butterfly effect.  Call it whatever you like; sometimes life's seemingly insignificant twists and turns carry a big impact.  If you'd told me two years ago I'd be spending one day a week on a farm, I'd have said you're crazy.  But accidents happen, and sometimes they result in pounds of tomatoes and enough sweet potatoes to last until spring.
The Fender Bender That Wasn't Even
I should've known when the text message came through that things were going too smoothly for a morning in July.  I was halfway through the lessons portion of the Day Camp I oversee; all my instructors showed up on time, there were zero angry parents, and the camp was running like a well-oiled machine.  On top of everything else, it was oddly cool outside.  I leaned back into the chair behind the little folding table that served as my on-deck desk, and sighed contentedly.  Today was going absolutely. . .
Buzz buzz
I pulled my phone from my pocket to see a new message from Brian
I was in an accident.  I'm fine.
Fine?  Brian drives all over New England for work, and if I was a worrier, I'd live in near-perpetual fear of him being crushed like a tin can.  If you've ever driven on the East Coast, you know exactly what I'm talking about.
Furthermore, the last time he was in an accident, a box truck came over the median on the interstate and pushed him across four lanes of traffic into the grassy shoulder.  He was fine then too, by some miracle.  It just took six weeks of rest and physical therapy on his shoulder to go back to work again.
I called and got his voicemail.  I called again, with still no response.  Then I texted.
Are you really alright?  Where are you?  Should I come home and meet you?  Can you drive the car?
Sorry, dealing with it.  Talk later.  I'm going home.
EXCLUSIVE FOR SUBSCRIBERS!
Sign up for my FREE monthly newsletter today, and get instant access to my FREE SUBSCRIBER EXCLUSIVE short story.
Revenge is better with a side of bacon. . .
Alright, fair enough, he was probably talking with police and calling work (it was a company car), but I needed more information.  I looked around at the pool, humming at an excited volume with well-organized activity, and decided I couldn't stand to stay there today.  It made more sense for me to be at home, nursing him back to health or at least calming his nerves.
I called one last time, and when I got no answer, I told everyone I was going home for the day and got on my bike.
Halfway home I heard my phone buzzing in my backpack and pulled to the side of the road.
Breathless I answered.  "Brian?  Are you alright?  Where are you?"
"Just heading home now.  Where are you?  That sounds like traffic in the background."
"Well, yeah, I'm heading home to meet you.  Are you alright?"
He laughed.  "I told you I was.  Sorry, I didn't mean to worry you.  It was just a fender bender.  This idiot stepped on it after a light turned green.  I guess she didn't realize there was anyone in front of her."
"How the hell?"
"I don't know.  I'll probably need a new bumper but. . . you didn't have to leave work.  Sorry."
"It's alright, I'm already covered for the day.  I'm glad you're okay.  See you soon."  I hung up the phone, sighed in relief, and continued on my way.
Out of Context
The unexpected afternoon off was a blessing.  I work thirteen hour days in the summer, so any excuse to have an afternoon together is a good one, even if it turns out to be just a fender bender.  We relaxed on the porch, took a short nap, and then decided it was a perfect day for grilling.  A little after five o'clock I offered to walk to the butcher down the street for a couple steaks.
As I waited at a crosswalk, I swore I heard someone calling my name.  Turning my head back and forth I searched the street for the source of the voice.
I heard it again, coming from a blue car stopped at the same red light I was waiting for.  A young man waved frantically with an enormous smile.  "Hey, Greg, what are you doing up here?"
"Oh, hi!" I waved back, hoping the confusion didn't register on my face.  I knew this person, definitely.  I recognized him, but out of context, I couldn't figure out who the hell he was.  I decided to go with it.  "We bought a condo a block from here a couple months ago," I said, increasing my volume to cut through the sounds of traffic going the other way.  "What are you doing up here?"
"I work here now!  I'm the manager of that little community farm by the reservoir!"
"Oh!" I replied, still without any idea who he was.  "That's awesome!"
The light turned green and he waved again.  "Congrats on the condo!  See ya!"
As he drove away I was more confused than ever.  I crossed the street shaking my head, picked up a couple of steaks and wandered back home.
It wasn't until later that evening when my phone buzzed again—Facebook Messenger this time—that it clicked.
Hey Greg, crazy to see you on the street today.  Congrats again to you and Brian on the condo.  Send me your address, I'd like to bring you and Brian a housewarming gift.
Tom!  Of course!  How could I have failed to recognize Tom, who'd worked with me the odd night or weekend for three years while he was in school?  Sure, I hadn't seen him in ages, and never without his distinctive red lifeguard shirt.  I was such an idiot.  I told Brian and we had a good laugh, then sent the address.  What a small world, and without Brian's fender bender, we'd probably not have crossed paths.
Fast-forward a few weeks and, good to his word, Tom stopped by with a couple bags stuffed with fresh heirloom tomatoes and peppers.  Brian and I turned them into an incredible salsa that we canned and enjoyed through the winter, at which point any thought of Tom and his farm had once again faded from my mind.
A Tantalizing Offer
That was the winter I finished the first draft of my novel.  As a first-time author I was, of course, convinced I was going to polish up a second draft, write a few query letters, and by the summer I'd be working with an editor, well on my way to publication.  After a decade with my camp I was ready for a break.  I couldn't imagine what summer might be like sitting on my porch in the mornings, only working forty hours, and focusing on my writing.  I arranged early to take a hiatus from the camp, and by March I was dreaming of my not-so-distant life as a world-famous stay-at-home writer.
That's when Tom reached out again on Facebook.  The farm was offering a limited number of work-share positions—four hours a week in exchange for a full share of vegetables.  He knew from our time working together that I love to cook, and wanted to invite me to apply.
Now, this was a novel concept!  Imagine going from thirteen hours a day inside all summer to actually being out in a field, breathing the air and snacking on cherry tomatoes!  All that super fresh, free food was the icing on the cake.
I discussed it with Brian, and we agreed it was a great idea.
A Deep Satisfaction
The summer didn't turn out as I'd planned—my second draft took much longer than expected, and the endless waiting of the query process was tougher than I'd imagined it would be.  I also missed the camp, which is something I didn't expect.  The farm however?
Life changing.
Living in the city (well, on the edge of it now), it is easy to become disconnected from nature.  Though I'll endeavor to do so in a future post, I'm not sure words can describe the pleasure of taking something from the ground that you have helped to tend, and using it to nourish body and soul.  I have seldom known a greater joy than returning home from a morning at the farm, sweating and dusty, knowing I have put in four hours of good work that have a tangible impact on my life beyond my checkbook.
I spent that whole glorious season looking forward to my farm days.  The summer ripened into a lingering autumn, and by the time the season ended in October, I left the farm grateful for the experience.
I wasn't sure I'd be able to return.  I knew this year I'd be going back to my camp, and once I decided to self publish my novel, I had even more on my plate.
Still. . .
I've found a way to make it work, requiring a little sacrifice other places.  Last Friday was my first farm day of the season, and I'm glad to be continuing on.  I'll be missing a few days of my camp, and I'll be writing at a diminished volume after this week, but it's all worth it.  I've seldom known a deeper satisfaction than plunging my hands into that soil, or reaping produce from the fields.
And I imagine; if Brian hadn't had his fender-bender, none of this may have come to pass.  Call it the butterfly effect, or whatever you like.  Those little scrapes on his back bumper have proven to be life-changing.
Share your thoughts!  Can you trace a seemingly insignificant event to something life-changing?  Do you participate in a CSA?  Are you a gardener, and if so, what does your time digging in the dirt mean to you?  Let me know in the comments below.
Thank you as always for reading,
Gregory.