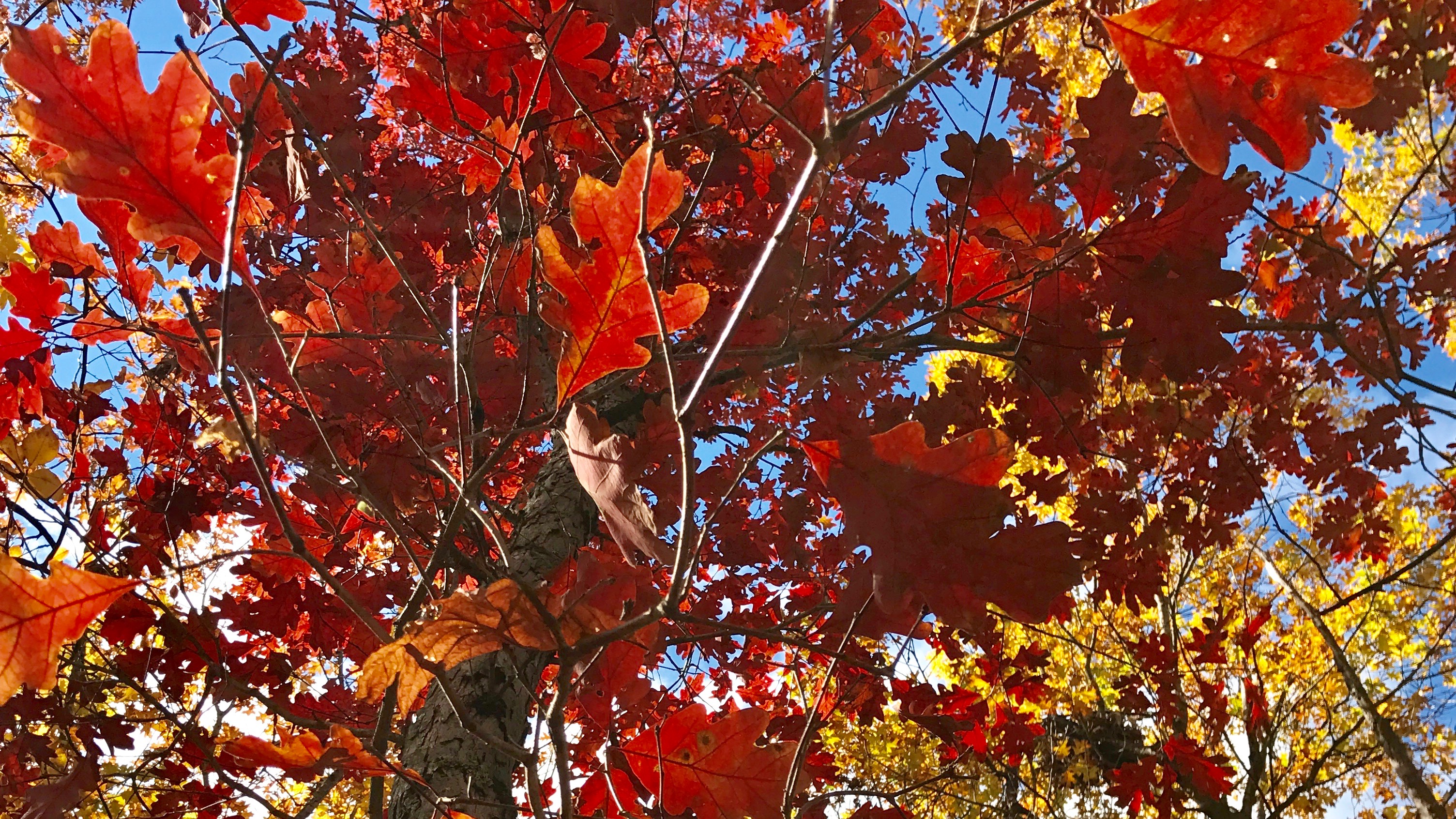 Ten Ways to Love the Autumn
At my house, the last day of summer is a joyous occasion, but for others it's a harbinger of dread. As my (northern hemisphere) friends step with me into The Dark Half of the Year, here are some tips and tricks to get as much joy out of the autumn as I do.
Summer is so overrated
Here we are then, finally! The last day of summer has arrived, and the fall is rolling in on the back of a mighty wind (thanks former-hurricane Jose). This is great news, so I'll be walking around all day with a huge smile on my face. There'll be no more worrying about being too hot, bathing in bug spray, or swimming in sunscreen. I can hear my friends lamenting now—
But we can't go to the beach, it gets dark so early, no more dining al fresco, we get so SAD (seasonal affective disorder), there's nothing to do now but hibernate!
Alright, alright. I hear you. These are legitimate concerns (I guess), but summer is so fleeting, especially in New England. The autumn has so much to offer—I just don't understand how some people manage to reserve all their happiness for three, hot, sticky months of the year. If you're in this camp, I encourage you to try the following on for size:
Ten Ways to Love the Autumn
1. Turn off the air conditioning and open the windows.
In Massachusetts there are exactly 38 days when it is acceptable to have the windows open in your house. These are May 1-13 and September 21 to October 15. Before and after these times it is too cold, and between them your air conditioner must run non-stop, or you'll spontaneously combust. Alright, maybe that's an exaggeration because my house holds heat really well. . .
In any case, you get the point. If you've been breathing artificially cooled, recirculated air all summer, now is your chance to take a deep breath and clear out your lungs. Drink it up!
2. Go to the beach anyways
September, October, and November might not be great for swimming in the ocean, but the days are still warm enough to enjoy a nice stroll on the sand. Also, keep your beach bag ready to go in case of Indian Summer—you might squeak out one last afternoon of sunbathing.
And if you're thinking about a long weekend away, the hotels in resort towns aren't in season anymore, so you'll stand to save some money on lodging.
EXCLUSIVE FOR SUBSCRIBERS!
Sign up for my FREE monthly newsletter today, and get instant access to my FREE SUBSCRIBER EXCLUSIVE short story.
Revenge is better with a side of bacon. . .
3.  Be a leaf peeper
Even those in the summer-is-over-life-is-over camp have to admit that fall foliage is gorgeous. Take a moment each day to enjoy the changing of the season as the trees turn brilliant gold and blinding red.
What's that you say? Changing leaves represent death and decay? You live somewhere the leaves just turn a nasty brown and fall off? I'd recommend some rose colored glasses then. Put them on and your nasty browns will turn pleasantly pink.
4.  Consume Pumpkin Spice everything
Seriously. Eat and drink all of it. The cult-like following of Pumpkin Spice is well-earned, and the cinnamon-nutmeg-crack-cocaine spice blend will be sure to warm you right up on a cold morning. What can I say? I'm a fan, and there is only a short window of time when it's acceptable to consume Pumpkin Spice. Ever try a pumpkin spice latte in July?
If you're a do-it-yourself kind of person, check out this awesome recipe from my friend Sandra.
5.  Go for a run (or a hike)
Because you hopefully took my advice with number 4, and you've got some extra calories to burn off. Also, I already alluded to this, but when you exercise outdoors in the autumn, you don't have to worry so much about bugs, UV radiation, or getting too hot. It's nice to go for a run and have the sweat actually evaporate off your skin, cooling you as it goes. You're not going to get that in August.
6.  Pull out the crock pot
Because you hopefully took my advice with number 5, and you're going to be hungry! Throw everything into the crock pot in the morning, spend all day on the trails, and when you get home in the afternoon there'll be delicious simmered-all-day goodness just waiting for you.
Truth be told, I'm kind of crap with the crockpot. My idea of cooking is preparing something so complex I have to stir it every 2.5 seconds for four hours or it'll be ruined. The set it and forget it method perplexes me. Still, I really love this beef burgundy recipe, which will help with number 7.
7.  Start eating mushrooms
This should in no way be taken as an actual remedy for SAD (seasonal affective disorder), but mushrooms are full of vitamin D, which is the vitamin we synthesize when sunbathing. By my totally unscientific logic, this suggests to me that mushrooms are essentially squishy little sunshine bombs.
So if the short days start to get to you, just eat a bucket of mushrooms. You can even throw some fresh ones into the beef burgundy recipe from number 6.
8.  Get cozy with a book
Alright, inevitably there'll be days in the autumn when it's just too cold or rainy to go outdoors. What a great chance to catch up on your reading! Grab a blanket and a cat, some coffee or tea (or wine or whiskey) and settle in. If you're still lamenting summer's end, I suggest something beach themed. And if you really can't come up with anything, I know of a good book to add to your list.
What's that? You don't read? How on earth did you end up on this blog? Oh well. I hear some people like this thing called Football that's on TV all the time. . .
9.  Plant some mums
Chrysanthemums technically, though I don't know anyone who actually calls them that. These hardy flowers will outlast everything else in your garden and add a little color as everything else goes to sleep and retreats beneath the earth.
10.  Slow down
Summer is hectic! While you don't have to hibernate, you should slow down. Take stock of your life and the world around you. Enjoy little moments. Appreciate not having to rush around. Rejoice in having less to do and more time to do it. And above all, though it's a long way off, remember that the summer will come around again. You'll have plenty of chances to be hot and sticky and stressed and doused in bug spray again next year.
Still not convinced?
Well, I did my best. Might I suggest moving somewhere in the southern hemisphere? I've got some lovely friends in Australia and New Zealand, and it's about to be spring there. Just let me know if you decide to go, I'll take your share of the Pumpkin Spice everything. Thanks.
And now your thoughts! Are you team summer-is-over-life-is-over? Do you feel strongly about Pumpkin Spice one way or another? What do you do to keep your spirit up when the nights are longer than the days? Let me know in the comments below.
Also, sign up for my mailing list and get my new short story The Liberation of Meredith Gardner for FREE! Just fill out the form in the widget below.
Thanks as always for reading! Happy autumn!
Gregory