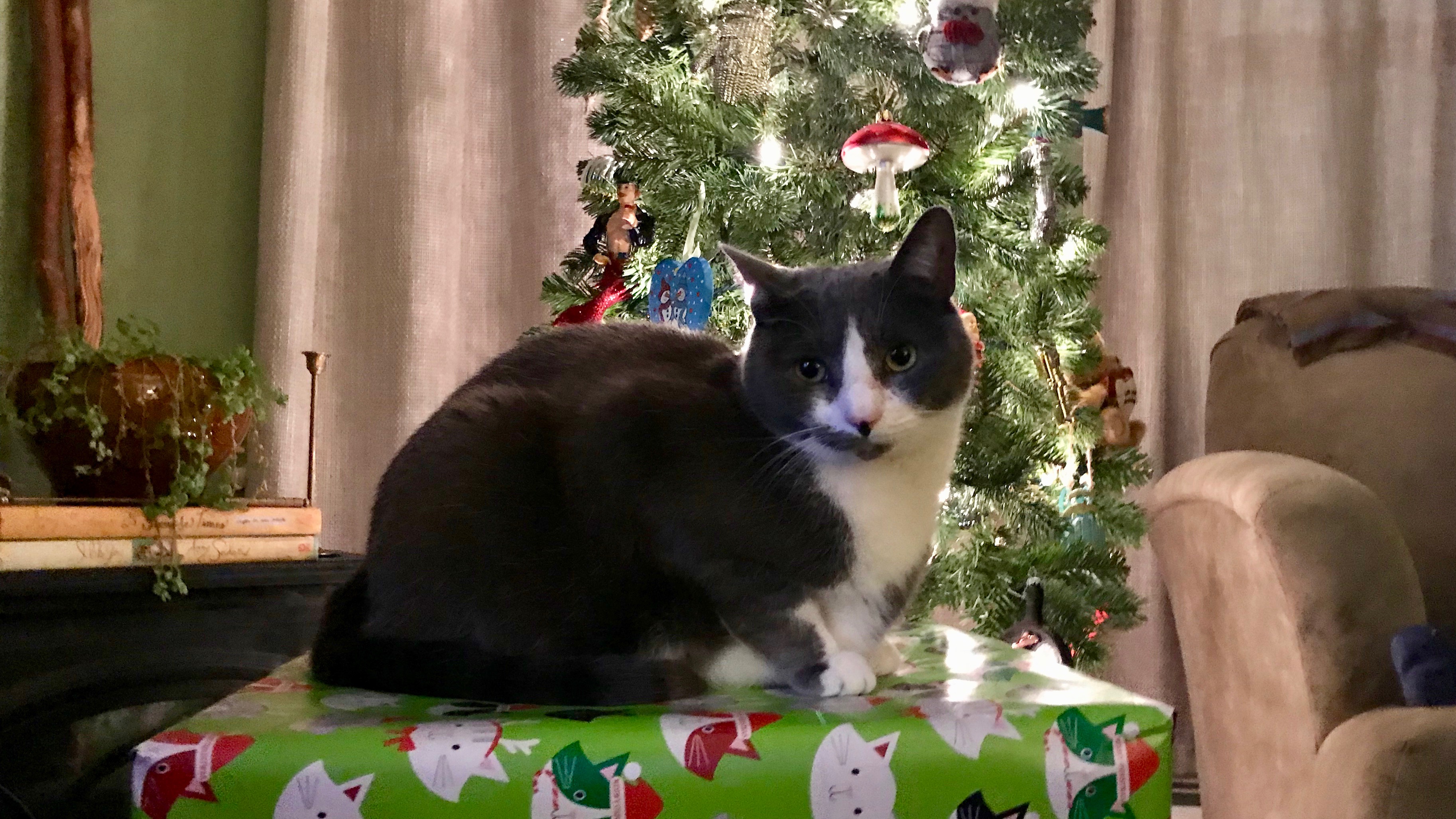 Why I Hate Christmas Music (And 5 Reasons I Listen Anyways)
I swear I'm not a humbug. The day after Thanksgiving our tree goes up, the lights come out, and I dive head-first into the Christmas season. But there's always one thing I dread: Christmas music. And while I might not like it—even hate it sometimes—it turns out the season just wouldn't be the same without it. . . 
Christmastime Again
Every year the scene is the same. Rather than door busting, on the morning of Black Friday, I get up and assess just how hungover I am from the previous night's Thanksgiving revelries. If the lingering effects are minimal, I throw together a leftovers frittata, and if they're severe, Brian and I substitute pie for breakfast.
And there's coffee. Lots of coffee.
Regardless, at some point during the meal we look at each other in silent acknowledgement.
It's time to head to the basement. Christmastime has come around again.
We descend three flights and then—sweating and grunting lightly under our breath—ascend again with all the makings of our own winter wonderland; the tree comes up first, in its box that's just a little too long to comfortably navigate through the stairwell, then the bins of ornaments, then his Gram Schindlbeck's ceramic music-box tree.
Somewhere in there we retrieve the penguin I ordered from Pier One—you know, the one from that iconic commercial with its foot smooshed in a cupcake.
We spread everything out on the living room floor and get ready to assemble the tree. That's when Brian looks at me and smiles, softly.
"It's time, don't you think?" he asks.
EXCLUSIVE FOR SUBSCRIBERS!
Sign up for my FREE monthly newsletter today, and get instant access to my FREE SUBSCRIBER EXCLUSIVE short story.
Revenge is better with a side of bacon. . .
I grimace as he starts setting out the pine-scented candles. "Shouldn't we wait just a little longer?"
Even as he shakes his head, I know he's right. None of this feels right without the soundtrack. So I click on the television and navigate to the Holiday Classics radio station—I just can't stand the idea of Holiday Hits yet, it's way too early for Mariah Carrey—and close my eyes as I press play.
Ertha Kit. Santa Baby. I groan inwardly. I hate Christmas music; a one-way ticket to hokey-town. And it's all so recycled, right? It's a handful of songs that everyone does—has done—for the last half-century.
This is my reality now. And not just at home. It's going to be everywhere I go until December 26th, so I'd better get used to it. I do my best to put my brave face on as we reshape the branches of our skinny little tree, and I start wrapping the white lights from the top to the bottom.
And yet somehow, without fail, as I approach the end of the final strand of lights I realize: I'm going to spend the next month perpetually annoyed by the proliferation of crummy holiday music.
But I really couldn't do without it.
It Makes the Season Bright
If nothing else, the majority of Christmas music is cheery. It might be hokey, sure, but all that lighthearted nonsense goes a long way to brightening up the darkest time of year. Somehow, if only for a moment, hearing Grandma Got Run Over by a Reindeer makes it alright that it gets dark at 4pm.
Also, all that talk about snow! I love snow more than pretty much anything, and since it rarely snows in Eastern Massachusetts before January—hell, February anymore—songs like Let it Snow give me a glimmer of hope that, yeah, it could happen at any time.
Oh, Sweet Nostalgia
Christmas seems to be the one time of year when it's acceptable to be unapologetically nostalgic. But gazing wistfully at favorite ornaments and looking at pictures of Christmases past only gets me so far.
Put on Amy Grant's Christmas album from the 90s? I'm nine years old again, and anything is possible. The world is full of wonder, and love, and hope, and I just know one of those beautifully wrapped boxes under the tree contains that Super Nintendo game I've been pining for.
That's the kind of siren song I'm more than happy to drown in.
Time Slows Down
I once heard this theory about why time moves faster the older we get. The idea is that units of time are constantly smaller in proportion to how long we've been alive.
When we're ten years old, three months of summer vacation is 2.5 percent of the entire time we've been alive. And it feels like forever. When we're 30, an entire year is only 3.3 percent of our lives, so three months is almost nothing in comparison.
And a single month? Just over a quarter percent of our lives. It goes by in a blur.
Though I hate to admit it, Christmas music helps me slow down and extend the season. It's a constant reminder to live in the moment, because before I know it, it's going to be January. Everything is going to be dark and grey, and it still probably won't snow.
Magic in the Little Moments
Speaking of being unapologetic, I'm a romantic at heart. I somehow started this tradition which only seems acceptable to both of us because of the holiday. On one unexpectedly quiet night every December, we turn the lights in the kitchen down low, and I make Brian slow dance with me to most of the tracks from Céline Dion's These Are Special Times.
It's absolutely ridiculous.
It's my favorite night of the whole season.
Christmas is full of potential magic in little moments like this. Unfortunately, it's a lot harder to find and/or embrace them without a soundtrack.
It's All About The Feels
In the end, Christmas music functions much the same as different genres experienced at other times of year. It's just—more focused. The best music captures our imagination, encapsulates our memories and emotions, and serves them up to us on playback.
We've all got that one breakup song that can still make us cry, years later. Everyone has a summertime anthem that reminds us of that amazing, disastrous cross country road trip when we were so happy, and we had no cares.
But the very nature of Christmas music—that it's concentrated, reserved for a short four weeks a year—makes it the best capsule for both memory and emotion.
And there are some songs that we've been hearing every December of our entire lives. How many experiences can you associate with Silver Bells, or Sleigh Ride? Their capacity is endless.
So if I plopped in some earplugs and managed to deafen myself for the entire month, I just don't think I'd feel Christmas the way I want to.
In the end, I suppose I just need to get over it.
I'm going to roll my eyes every time I hear a new version of Happy Christmas, but if you watch carefully, you might just catch me humming along in spite of myself.
Maybe—and this is a secret, so don't tell anyone—maybe I don't hate it so much after all. . .
What do you think? Do you love Christmas music, or hate it? What is your favorite holiday song, and which one just absolutely raises your hackles? For extra credit, who do you predict will be the next pop artist to release a terrible rendition of 'Happy Christmas?' Let me know in the comments below.
Thanks as always for reading,
Gregory