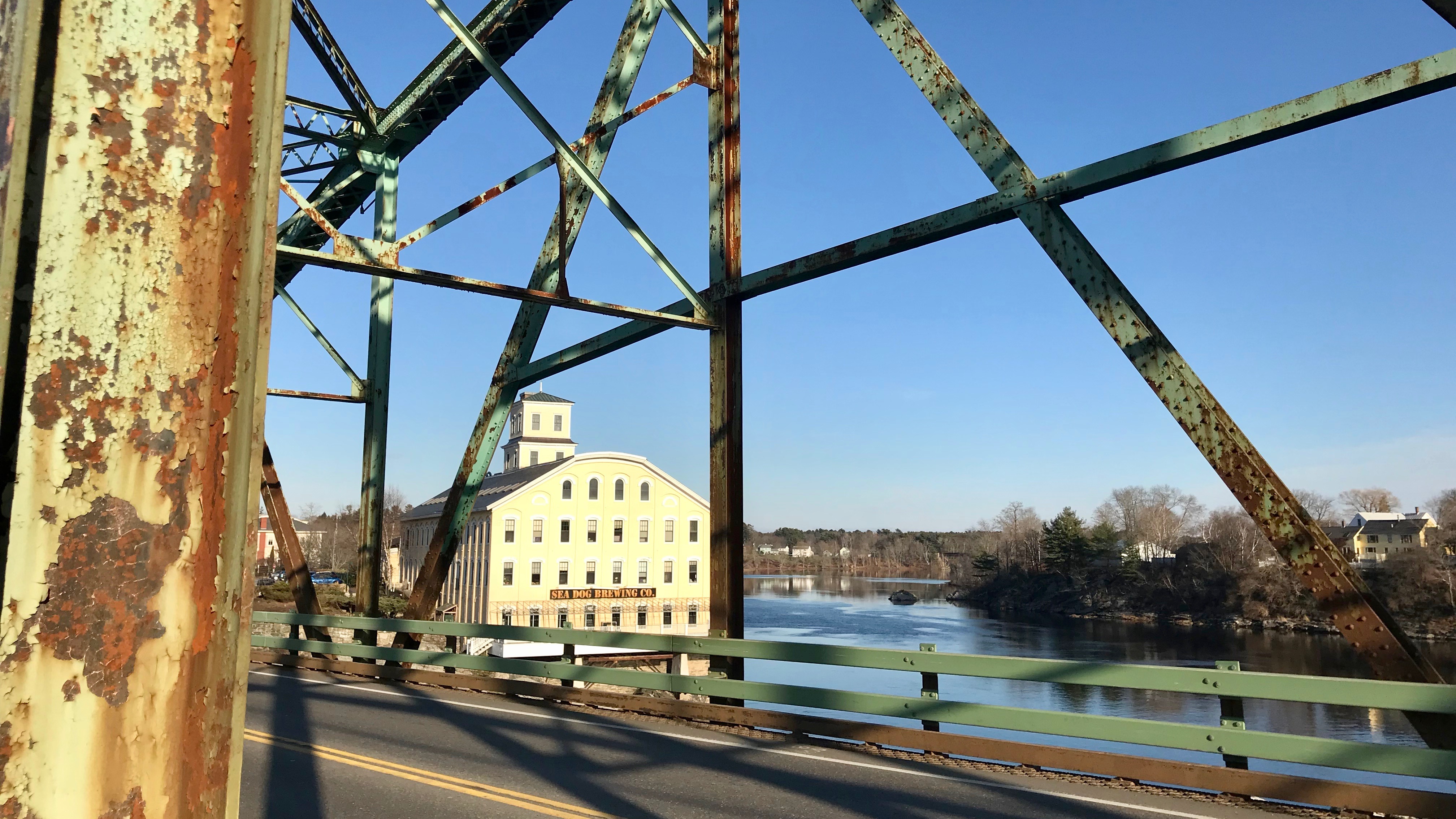 "And You Moved HERE?"
Do you ever feel like your life would be so much better if you could just. . . Live somewhere else? People should be free to move wherever they like, but there is a danger: sometimes when we're busy dreaming of ditching our boring old neighborhoods, we miss what's all around us. Take a second look. Your current digs might not be so bad. . . 
The Grass is Always Greener
When people find out I grew up in Colorado, I almost always get one of two reactions:
"Oh, you must be a great skier."
Or. . .
"And you moved here?!"
To the first response: Oh yeah, I was alright I suppose, but I haven't been on skis since I was fourteen.
For a long time, though, the second response baffled me. Living in New England is my dream. And sure, I'll admit that about once every ten days I think about how nice it might be to live in Colorado again, but at the present time I'm exactly where I need to be. I live by the four distinct seasons. I breathe the history. I'm at home in the lush forests. I'm obsessed with the dramatic change in light from season to season.
I delight in the architecture. I subscribe to the values. I thrive at the frenzied pace of life.
And I love the snow (though I guess it doesn't really do that anymore).
So, being the inquisitive soul that I am, I generally ask why people in New England think Colorado is so great.
EXCLUSIVE FOR SUBSCRIBERS!
Sign up for my FREE monthly newsletter today, and get instant access to my FREE SUBSCRIBER EXCLUSIVE short story.
Revenge is better with a side of bacon. . .
"Everyone is so much happier."
"All that sunshine."
"It's so beautiful."
"There's so much more to do."
"Beer."
"No stress."
The list goes on, but you get the point. Yes, Colorado is a beautiful, sunny, happy place with lots to do, and I could happily live there again, but. . .
The grass is always greener. I wonder if these people that purport to pine for life in the west ever go hiking in New Hampshire, or take advantage of a beach day, or visit any of the zillions of craft breweries we've got right here at home.
So I shake my head and think, thank goodness I'm not so blind to what I've got all around me. Poor fools. . . 
A Pretty Dream
And yet. . .
For some time now Brian and I have had this sort of pretty dream. A few years from now we'd like to leave the hustle and bustle of the city behind and buy a bed and breakfast somewhere in Maine. It's the kind of reverie I can really get lost in, especially on days when I'm working long hours and lamenting our opposite work schedules.
We'll get to be together all the time. I'll have a garden from which to serve up fresh produce, and maybe enough chickens to keep the guests fed on fresh eggs most of the year. We'll get to live in a lovely old Victorian where I'll still be able to write my books, and we'll line the walls with his photographs.
Every day will be like a vacation. After the cooking and gardening is done, and we've turned over the sheets, we'll sit on the wide veranda in the late afternoon and think we've made it!
There are some days I look around at our tiny (but cozy) condo on the noisy main road and think that day can't come soon enough. I can't wait to relocate to a place where life will be simpler. Better.
Don't worry, as I write this, my hypocrisy is not lost on me. Sometimes, as is my way, it just takes a reminder.
A Little Glimpse of Paradise
Brian has a big birthday coming up, and I wanted to do something special—have some kind of memorable adventure. As I mentioned, we love Maine, and try to visit as often as possible. We stay over in the resort town of Ogunquit a couple times a year, and have recently been falling in love with Portland, but I wanted to try something totally new.
I recently discovered the existence of an Amtrak line called The Downeaster which runs several times a day from Boston's North Station to the small college town of Brunswick at the gateway to Maine's Mid Coast. Home to Bowdoin college, Brunswick is a quaint village of 20,000 people nestled along the banks of the Androscoggin River.
So I figured, why not? It sounded like the kind of place we might like to end up. . . Partway up the state, but not so far that we couldn't reasonably take the odd trip back to Massachusetts. I ordered train tickets, reserved a hotel, and planned a weekend stay.
We went this past weekend.
For the sake of brevity, I'll spare you the lion's share of details, but tell you we were absolutely charmed. From the moment we got off the train, the atmosphere felt different. Checking into the hotel, the ladies at the desk were eager to engage in conversation as though we were old friends. During lunch at a local taco place, the workers were more than enthusiastic about their selection of unique hot sauces. At dinner, two separate waitresses sat down with us at our table to laugh and joke, and share in our conversations.
As we sipped our umpteenth cider mules, Brian said to me "There is something about the moment you cross that state line. It's like everyone is on vacation all the time, and it's amazing."
And he wasn't wrong.
The next morning we had breakfast at a little café whose walls were lined with fine art photography and paintings for sale. The waitress took time to tell us what she loved on the menu, and then told us all about the pieces hanging in the café that her brother-in-law had done.
It's like we were old friends. It's like we belonged there.
And the town itself, though small, was intensely charming. We enjoyed the expansive antique mall, the local artists market, and the unique gift shops. Partway through the day I pulled Brian into an independent natural foods market and practically swooned at all the beautiful, local produce.
Honestly, Brunswick seemed to check every box on my list for dream community.
And the river was beautiful, and if we'd had a car, I'm sure we could've found some amazing nature just outside of town.
When we got back on the train, I felt like I was leaving paradise to return to my drab old existence just outside Boston. I couldn't wait, couldn't wait, to reach that later stage in life where we'd purchased our B&B.
But in the end, reason usually prevails. . .
A Reality Check
I think we're going to hold onto that Bed and Breakfast dream. I think it's going to happen. But in the cool grey light of a Tuesday morning, I'm realizing I shouldn't be in such a hurry. While we might end up in a place like Brunswick, I have to admit that almost everything I liked about it, I've got right here.
The town I live in is full of amazing, diverse ethnic foods. And just down the road in the thriving town center there are loads of unique gift shops that offer much of what we saw in Brunswick.
My town doesn't have an independent natural foods store, but just outside the train station where I disembark for work everyday, there is an amazing food coop to which I own a share. It's probably twice the size of the one in Maine, and incredibly convenient for me.
Plus, for roughly half the year, I've got my own farm! For the rest of the year, a company will deliver locally sourced produce right to my door once a week.
There are hiking trails that I adore a short ten minute walk from our condo, and all the culture and opportunity of Boston is accessible via a short twenty minute train ride.
Perhaps the unguarded, instantly welcoming attitude of the Mainers we encountered is a bit more scarce here, but I do live in a community that is just as warm given a little effort.
So what's the rush?
I can imagine a conversation with a Mainer going something like this:
"You're from Maine? Why did you move here?!" I ask.
"What's so great about Maine?" They say.
What, indeed?
The Takeaway
People should choose where they live, certainly. But barring war, famine, natural disaster, and oppressive politics, where you live right now is probably pretty great. And your grass is greener through someone else's eyes.
Feel free to spread your wings and fly off to greener pastures, but before you go, take a look around. You might already have everything you want, right where you already are.
Share your thoughts! Are you dying to relocate? Have you already made a big move and found your dream community? Are you interested in making advance reservations at our eventual B&B? Let me know in the comments below.
Thanks as always for reading,
Gregory