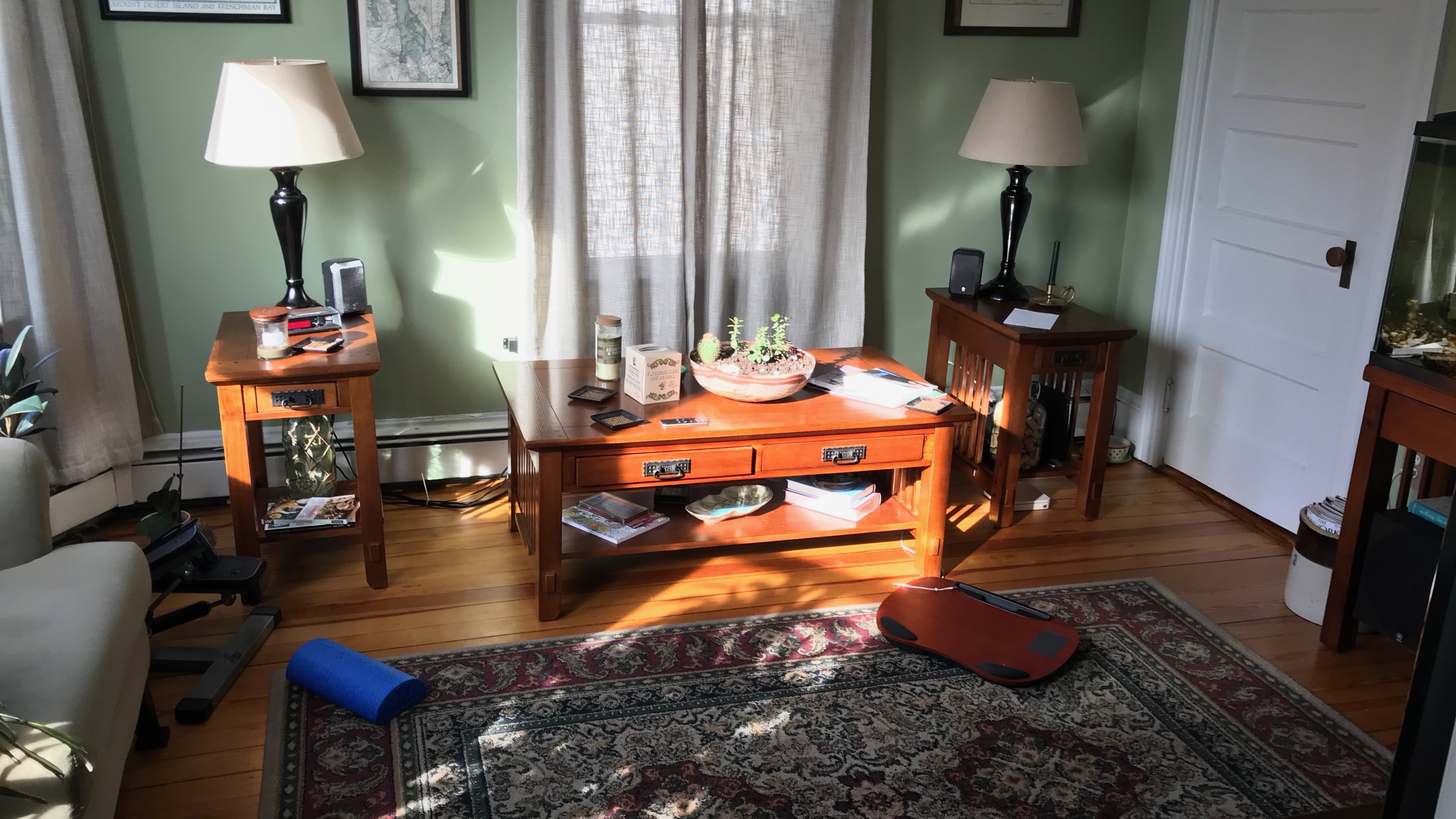 The Living Room Floor – A Love Story
Sometimes a little chaos reveals what really matters. There's nothing like a half-empty room to show how rich life really is, as long as you're willing to sit cross-legged and have a picnic…
Iceland, or…
We never took a honeymoon. Early in the engagement the conversation went something like this:
"Where should we go after the wedding?"
"Oh, I don't know. Not anywhere hot though."
"No, definitely not hot. The tropics aren't our speed at all."
"No. What about Iceland?"
"Yeah, Iceland sounds great."
And so it was decided. It didn't happen though. Somewhere between that conversation and the wedding, our priorities changed. We decided—more than anything—we wanted a house. We kept the budget down on the ceremony and the reception, and didn't create a registry (I already had a Kitchen Aid mixer, and I'd bought myself a set of copper pots and pans that'll last my lifetime with my tax return money back in 2009). Instead, we asked for donations to our down-payment fund.
It was an amazing wedding, held at the sailing pavilion of the University where I work. The ceremony was to be on the dock, and then the reception on the roof of the boat house. In reality, the ceremony took place in the classroom beside the dock (think shed more than lecture hall), because just as we were getting ready to start, the darkest, blackest clouds I've ever seen ushered in an unforgettable tempest.
I said "I do" in front of a white board, and in the photos there is a little red magnet representing a sailboat aiming to swim up my nose. It was incredibly hot in there, and by the end we were all dripping with sweat.
EXCLUSIVE FOR SUBSCRIBERS!
Sign up for my FREE monthly newsletter today, and get instant access to my FREE SUBSCRIBER EXCLUSIVE short story.
Revenge is better with a side of bacon. . .
It was unpretentious. It was off-the-cuff. It was absolutely, perfectly us, and I wouldn't change any of it.
The weather cleared just as the ceremony ended, and the night gave way to an unforgettable reception upstairs. We laughed. We drank. Dark'n'Stormies were, ironically, the signature cocktail, and we didn't run out of dark rum until last call.
But time and again, the question came up:
"What are you doing for a honeymoon?"
In turn, Brian and I laughed. "We'll honeymoon in the living room of our new house when we get it. We'll lay out on the floor like it's a beach. We'll have a picnic!"
Sore about the Floor
That was September of 2014. By the time we got the keys to our condo in May of 2015, we'd forgotten all about it. There was just too much to do. Sure, we had more than a few meals sitting on the living room floor, surrounded by paint cans. The gallon of Clary Sage served as a table, and I set my drink on Ember Glow. We propped the pizza boxes on Anjou Pear and Powder Blue, and in retrospect it was fun. But at the time all we could think about was getting the painting done. My parents were coming the following week to help us refinish the floors.
And then we moved in, and once again forgot our promise to honeymoon in the living room. We were too busy waiting for furniture to arrive, and checking off the list of a million little projects that come along with a hundred-and-five-year-old home. And the list kept growing. For every item we checked off, there were three more we added.
By the time the couch came, and then, subsequently left again (it wouldn't fit up the stairs), we were sick of sitting on the living room floor. The delivery guys told us it was going to be an extra $150, and and extra week, to get the special crew out to bring it through a second story window.
What could we do, though?
A week later, three men in their fifties, ropes tied around their waists, brought our couch up a ladder, through the bay window, and into the living room. And that was that. We turned our eyes to the future and got on with living.
No honeymoon.
Fast forward to the present. The marriage has worked out swimmingly. The couch? Not so much. Unlike our enduring love, the couch is sort of … hard and unyielding. It's too large for the room, and just not—well…
Over the past three years in this place, we've learned that our home is truly our sanctuary. Because our schedules are opposite, we each spend a lot of time here alone. That situation is not ideal—not even close—but the blow is softened by the warmth and character we've created here. It's an expression of us. It's small, it's comfortable. It's filled with lovely things without being pretentious.
But that couch had to go.
A Comfortable Solution
When we decided to flip-flop our dining room and office at the beginning of the year (and paint all our trim white) we finally had an opportunity to rid ourselves of that stiff old behemoth (kind of). We thought we'd move it to the new office, because it's a sleeper, and the bed inside is ridiculously comfortable, and then get a new, smaller sofa for the living room.
So, this process came in stages. First I had to repaint the walls in the new dining room (sorry Powder Blue, you were just too cold). Then I had to do the trim (sorry original dark lacquer, you were just too dark). Then the dining room was done. We ordered the new sofa and sneered at the old couch. Delivery was going to take a while, so we worked on the trim in the hallway next…
But then came the message. After a three week wait, the new sofa was ready to schedule for delivery. That meant I needed to get the trim painted in the new office so we could put the old couch in there.
I had a marathon of a day this last Friday while Brian was at work. I started the first coat of primer at 8:30 in the morning, and finally finished the final coat of semi-gloss around 4:30. We pulled the blue painter's tape off around 6. The room was looking really good, and Brian suggested maybe we should move the old couch right then.
It wasn't the worst idea. The new sofa was being delivered Friday, so we could probably stand seven days of sitting on the living room floor.
We agreed. Then, due to a slight error on my part, we got it stuck in the hallway for a few minutes. There was a point where we were both close to tears as little bits of the fresh paint job were scraped off, but we worked together, and eventually got the old behemoth into the new office, relatively unscathed.
Oddly, in its new environment it seems more comfortable. More inviting. I'm sitting on it now, as I write this, and marveling at the beauty of this new office/guest room with more than a hint of pride.
A Valentines To Remember
The following day, Saturday, we decided to celebrate Valentine's Day a bit early. I'll have to work on the actual day, so it made sense. We went back and forth between going out or making a nice dinner at home, and ultimately settled on the latter.
Together in the kitchen we whipped up some luscious mashed potatoes to go alongside green beans with garlic and shallots, and pan-seared filet mignon. I plated everything and was ready to bring it into the new dining room and light some candles, but Brian headed me off.
"Let's have a picnic?" He asked.
I was standing in the doorway between the living room and dining room, and I looked back and forth between the two. There was the dining room, with its gleaming white trim, and freshly painted golden walls. And then the living room, so recently rendered incomplete (again) with its large expanse of floor, the snake pit of cords formerly hidden by the couch on full display. A mess. A to be continued. I looked down at the plates of fine food in my hands. The choice was obvious. There was no debate.
"Alright," I said. "Picnic it is."
His smile was worth everything as we sat down, cross-legged on the carpet, using a couple of paperback novels I'd just read as coasters for our wine glasses.
And I was so happy, because isn't that life, right there?
We never had a honeymoon, because maybe the honeymoon has been this whole time. Can any room, any house, any relationship, any life ever be finished? Ever be perfect? Ever be complete? Or are they always works in progress, always changing, always to be continued? Always to be celebrated.
It wasn't a four course dinner with two dozen roses and a bottle of champagne. But it was perfectly imperfect, and perfectly us. And while in a few short days that room will be complete again, and the new sofa is going to be an absolute dream come true, I think I'll keep this as a reminder:
Sometimes the greatest joys in life can be found not on a tropical beach, or gazing upon an Icelandic geyser, but cross-legged on the living room floor in my own home, sitting across from the man I love.
That's living.
Share your thoughts! Has a simple or chaotic moment ever reminded you of how fortunate you are? Do you ever make it to the end of your list of projects? What is/was your idea of a dream honeymoon? Let me know in the comments below.
Thanks as always for reading,
Gregory